Learning the Languages of Canada
Welcome! Hello! Bienvenue! Bonjour!
Do you need to know English when moving to Canada? What about learning French? English is the most spoken language throughout the territories and provinces. However, French is the main language of Quebec, and you may find French-speaking communities throughout the country.
Being able to speak the language of your province and community will open doors and help you become adjusted to your new home. There are many important reasons for a Canadian immigrant to be able to communicate well. As a certified immigration consultant for Canada, we want to share more about the languages and their learning opportunities in our country.
Where is French Spoken?
It is the primary language of Quebec. Some areas of Ontario, Manitoba and New Brunswick also speak French. Across all the provinces as well as territories, you will find communities where French is spoken.
However, if you speak English, know that there is a large community in Quebec that speaks that language. Publications from the government and documents are all written in French and English.
Other provinces and territories throughout Canada speak English as their primary language. However, you will find federal signs printed in both English and French, regardless of where they are located.
Why You Need Skills in a Language
In order to help immigrants to settle in Canada, skills in French or English are necessary. Depending on where you live, you will need that language to communicate with your neighbors and the community. Strong language skills in either French or English will help with the following:
Going to school
Getting a job
Helping your children with their school work
Accessing services
Meeting new people and being able to talk
Getting ready for citizenship in Canada
Improve your language skills before you arrive
You can get ready for emigrating to Canada by improving your languages before you arrive. After you arrive there are resources to help you improve. If you already speak one of the official languages, consider learning the other, as it may be an advantage in finding a job or being part of the community. You can practice some English spelling skills here.
You'll Need a Language to Work in Canada
Although you have language skills that allow you to immigrate, these skills may not be strong enough for you to get a job here. Most of the trades and jobs here require the following:
That you be fluent in French or English
That you have a solid knowledge of the work-related language
That you understand some of the unique-to-Canada expressions
You may need to take a language test to work in your field, so it is wise to find out more about the test that will be used for evaluation and assessment. Contact the agency or body that regulates your field of work. There may be classes and programs that combine work experience and language training.
Take Language Classes When You Arrive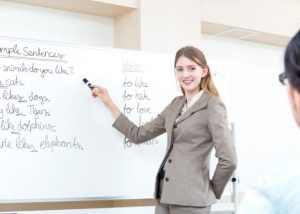 Once you are in Canada, there are classes in languages for which you may be able to sign up. They would be in English or French, as the federal, provincial and territorial governments are in charge of funding classes. These are at no cost, but if you decide to get a private tutor, you will have to pay for that.
How can you find out about language classes for newcomers in your new area? There will be free newcomer services when you arrive here. You may also be able to get some other newcomer services before you arrive, but the languages classes are for those here who are new to Canada.
There may also be more information on the website of your province or territory. You can find out more about the services that they provide.
Before you register for classes, take an assessment test
A language assessment centre may be located in your city. You can also take a self-assessment test online to get an idea on your current level of language before you do the formal test.
Proof of Language Ability
If you are applying for a job or are trying to enter a program in a university, you may need to take a language test. Several tests are accepted throughout Canada. After the test, you will receive a certificate and the results of the test. You can use these in a number of ways.
English
Some of the English language tests and certificates are from the following:
International English Language Testing System (IELTS)
Test of English as a Foreign Language (TOEFL)
Canadian English Language Proficiency Index Program (CELPIP)
The TOEFL is usually needed if you are entering a college or university.
French
The tests that you will need are the following:
Test d'évaluation de français (TEF)
Diplôme d'études en langue française (DELF)
Government or private language testing centers might also have more information on these certificates and tests.
Language Is the Key
Now that you know that there is help with learning the languages of Canada, you can see why it is so important for a new immigrant to be able to communicate with others in their new home country. Making friends as well as finding out about services that are available, such as job banks and housing, will be easier when you know the language, whether English or French.
There is help with settlement issues even before reaching our country. However, knowing English will help you access the plan. It will also help you in finding work and in starting life in Canada.
After you have settled here and are a permanent resident, you may be interested in finding out more about becoming a citizen. Knowing the language is one of the requirements for citizenship.
We Can Help
Ready to learn more? The staff at Canada Safe Haven Immigration Consulting speaks both English and French. We can help answer your immigration questions and prepare you for permanent residency or citizenship. As a immigration consultant and notary public, our professional experts can assist you with documentation, as well. Contact us to learn more about our services.