Beware of Immigration Fraud - Careful!
Did you know that immigration fraud exists and that you can report it? Those who wish to call Canada their home may come across cases that involve fake marriages as well as human trafficking. Others, such as fraudulent representatives, immigration scams and extortion, may all be types of immigration fraud.
You can report it before becoming a victim of immigration fraud. Knowledge of this type of fraud will be a valuable tool in moving to or staying in Canada. What's more, you can verify that the immigration consultant that you work with is registered and licensed; you can be assured that their help and knowledge are valid, and they are not part of any type of scam.
What Are the Different Types of Immigration Fraud?
Fraud comes in many forms. Become aware of some of them that target immigrants, so you won't be the next victim. Here are the various schemes:
Telephone, mail, and Internet
You may get an offer for very low prices for immigration services. Other scams are guaranteed jobs or contracts for employment. Not only are these offers fraudulent, the scammer may steal your personal financial information. Be careful of transferring money or paying a deposit before the application process has really begun.
Extortion
A person pretends to be from the immigration office. They say they are an Immigration, Refugees and Citizenship Canada (IRCC) official, and that you need to immediately pay fees to them, as you have not completed your immigration documents. They may threaten you with deportation as well as other actions, such as account suspension, arrest, loss of status, assault or even kidnapping. The name and account number of the person calling you may be fake.
The IRCC will never call you by phone or contact you in person to request fees or fines.
Authorized representatives
You should be confident if the person helping you with immigration is an authorized representative – or a scammer. If you are paying money to have their help, you want to be sure that it is not a scam. There are ways to check this; the agent should be registered at the Public Register of Regulated Canadian Immigration Consultants (RCICs). You can do a simple search here. It should tell you if the consultant is active or restricted.
If you put in the name of an agent and receive the words, "Active – Practice Restricted," it means that there is a temporary order or finding made by the Discipline Committee. It should show the reason for this finding.
There are some reasons that agents cannot serve clients. It may be because they have a leave of absence or they have resigned. Their license may also be suspended, for a number of reasons, including failure to pay fees or meet the requirements.
The College oversees both Regulated Canadian Immigration Consultants (RCICs) and
Regulated International Student Immigration Advisors (RISIAs).
You may also be able to check lawyers and notaries in Quebec and other provinces. It is important that you be confident that you have chosen the right representative to help you.
Fraud at the border
Witnessed at the border, this variety of fraud needs to be reported. It may include marriages of convenience. Other acts of border fraud include giving information that is false or providing misleading information. Suspicious border activities or people who are wanted on an immigration warrant should also be reported.
Fraudulent citizenship
Pretending to have lived in Canada longer than is true is a fraud. Hiding information in order to achieve citizenship is also considered not legal.
False Documents
Providing altered documents or false information to IRCC is also a type of fraud and is a crime. Lying to a person from IRCC who interviews you is misrepresentation and is also a crime. When you do this, your application may be refused, and you may not be able to travel to Canada for five years. Other penalties include the charge of crime, a record of fraud, removal from Canada and suspension of your permanent resident or citizenship status.
Reporting Immigration Fraud
Victims of immigration scams should report the crime, rest assured that there are immigration fraud penalties. You may have witnessed it and want to not see it repeated again with another victim. There are ways to report it. They are the following:
General immigration fraud: Contact the Canada Border Services Agency (CBSA). They can be reached by phone at 1-888-502-9060
A representative committed fraud: Cancel the representative through "Use of a Representative" form. Let IRCC know through their form. You may also contact CBSA (as mentioned above) at 1-888-502-9060
Filing a complaint: Whatever agency regulates your representative should receive the complaint. Immigration representatives and lawyers have different agencies.
If you are outside of Canada, it is best to report it to the closest Canadian embassy or consulate. The consulate in the country where the fraud is taking place should be contacted. If there is identity theft or financial information involved, you may also want to contact your local police.
Reporting citizenship fraud
Contact the IRCC Call Centre at 1-888-242-2100, Monday to Friday between the hours of 8 a.m. to 4 p.m., eastern time. If you are outside of Canada, call your nearest visa office.
Reporting human trafficking
If you know the victim, contact your local police. You can also report it anonymously at Crime Stoppers at 1-800-222-TIPS (8477).
Verify Your Immigration Consultant
If you would like to know if CSHI is listed, just put in the number, R408327. You can be assured that our agency is registered. Only those with active registration are listed. Agencies who are registered and in good standing with the College are authorized to provide immigration services to clients.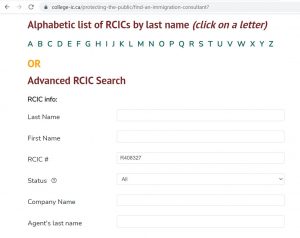 If you still need to read more about immigration fraud check this government website.
We are a certified immigration consultant who you can trust to provide correct and knowledgeable information. Our staff of trained professionals can answer your questions regarding moving to Canada as well as becoming a permanent resident or citizen. We know about the programs in the provinces, such as the PNP, Provincial Nominee Program and can also advise on family immigration to Canada. As a notary public, we can also help you with your documents, ensuring that they are correctly submitted.
Contact us to learn more about our trusted services and how we can help you in your efforts to study, live and work in Canada.