June's Big Day: Weddings and Immigration
June is the month of weddings, and those in Canada may follow this trend. Saying "I do" always presents some challenges, but when a Canadian citizen marries a foreign partner, the challenges may increase. It is a time to make some decisions; they are more than deciding the flavor of the wedding cake, the flowers in the bride's bouquet and the amount of attendees at the ceremony, you will need to understand what involves with marriage in Canada for foreigners.
Two people are in love, and they want the day as be as least stressful as possible. Some thinking and planning before the wedding can go a long way. This may involve guests coming to Canada from anywhere on the globe as well as those who already live here. You want your guests to experience your celebration with a happy and memorable experience.
So, if I marry a Canadian citizen can I live and work there ? Have you thought about visitors and immigration issues ? There may be foreign guests that wish to come to Canada to see friends and family married. As a certified immigration consultant, we want you to be aware of some immigration issues for visitors that your guests may need to know. Having information ahead of the visit may make everything go more smoothly for guests coming to Canada.
Marriages Between Foreigners and Canadians Will Increase
The government hopes to increase the number of students coming to Canada to study. Most likely, this will result in more of those students finding a love attachment, remaining in the country and getting married. Foreign workers are also being welcomed to our doors, and they may find love as well as work. It looks like the trend will continue to increase.
Marriage in 2022
Aside from approving of the institution of marriage, Canada also approves of same-sex marriage. In the year 2015, there were 160,000 weddings, while in 2022, the wedding industry in Canada is preparing for an explosion in weddings, whether opposite sex or LBGTQ. Many were delayed during the pandemic, and they will soon be happening again.
Will you have guests from other countries?
You want them to have a welcoming introduction to Canada. Unless they are U.S. citizens, they will need to have a Temporary Resident Visa (TRV) or, in the case of citizens of visa-exempt countries, an electronic Travel Authorization (eTA). Be aware that U.S. citizens do not need either.
Are your guests from outside of Canada bringing gifts? They might want to read more about this. They may need to leave the gifts unwrapped until they are here, then wrap their gifts in their favorite wedding paper and ribbon.
Here's an issue that you might not have given consideration: Could your guests be considered "criminals?" Certain offenses that they committed in the past may be an issue. These include the following:
Driving offense
Petty theft
Simple assault
All information given should be truthful. It may be best to consult an attorney before they make travel plans. They certainly would not want to be denied entry into Canada after coming all that way. You can find out more about this here.
Before coming to Canada, your guests can check their ability to visit by going to this government website that lets them answer some questions to determine eligibility.
If family is coming for your wedding and think they might want to remain in Canada, you should learn more about family sponsorship. Family immigration to Canada requires that they have valid travel documents and passports. Please note that you can't use diplomatic, official, service or public affairs passports to immigrate to Canada.
Becoming a Permanent Resident
Your new foreign-born spouse or partner may want to become a permanent resident. There are certain ways to do this that are in line with immigration laws.
Sponsoring Your Partner
Even before the marriage happens, if you and your foreign-born partner have been living together for at least 12 months, the foreign born partner may be eligible to apply to become a permanent resident as a common-law partner. You must be able to prove that you have lived together 12 months or more.
Married Partners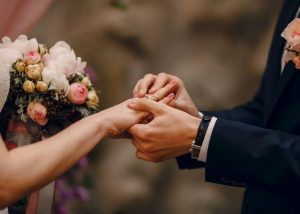 You can sponsor your spouse if the marriage is valid. The marriage can be performed inside of Canada as well as outside of our country. If the marriage is performed outside of Canada, it must be legally recognized by that country as well as Canada. This applies to opposite and same-gender marriages and must have been performed in person, with both people present. Immigration will not accept marriages performed over the phone, internet, etc.
What about conjugal partners?
What is a conjugal partner? A conjugal partner is a person living outside of Canada and has been in a relationship with you, the sponsor, for at least a year. You may not have been able to live together because of the home country's barriers. They could be for religious, sexual orientation or other reasons.
Partners Who Work or Study in Canada
Whether a common-law spouse or one that is married, your partner may continue to study or work as long as they have a valid permit. They still need a permit from immigration. It is not legal for a foreigner, even though married, to work or study without an authorization from IRCC.
What are economic programs that a non-Canadian spouse may apply for?
Other than Canadian permanent residency through marriage they may receive permanent residency thorough the Express Entry program. The province might permit them to work through the Provincial Nominee Program.
Starting Married Life in Canada
You now have some basic information for planning your wedding and having a foreign-born spouse or partner come to our country. There will be much to think about while planning a wedding, so immigration issues will be easier if planned ahead as well.
What does immigration look for in a marriage ? Can I get married while my PR is in process ? is online marriage legal in Canada ?. Lots of questions you may already have, at CSHI, we may be able to help. We are also a notary public and can help with documentation. Whether you plan to study or work in Canada or bring family here, we have knowledge of the programs. Contact us to learn more and begin your future in Canada.