In-Demand Ontario Jobs Will Help the Labour Shortage
Now open: Have you heard about the recent Ontario Immigrant Nominee Program's Expression of Interest system for in-demand skills? Occupations that are considered "low skilled" will be considered. Applicants in Ontario must have 9 months experience in Ontario within the past three years.
Foreign workers may have in-demand skills in occupations such as agriculture, trucking, construction or personal support. It is open to foreign workers both in and outside of Canada. It will begin with an expression of interest system; you must first register an expression of interest. You can then complete the application if you receive an invitation to apply.
Your job offer must be for a full-time position that is permanent. It must be a job that is urgently needed for your employer's business, and the work must be based in Ontario. You must also show the intention to live in Ontario after you have been granted permanent residence.
What is the Work Requirement?
Experience translates as either 1,200 hours of paid employment in one job within the last 18-months or work with more than one job for at least 30-hours a week for 9-months (1,200 hours). Seasonal work experience is not eligible to meet the work requirement.
What Are the Steps to Apply?
You must first create a profile. Go to the Ontario Immigrant Nominee Program (OINP) website. Then register an expression of interest for the job offer of In-Demand Skills stream.
If you are selected and receive an invitation to apply to the Employee Job Offer: In-Demand Skills stream, you will be able to submit your application online. It will be made through the OINP e-filing Portal.
You should know the following:
Applications should be submitted within 14 days of the invitation
The application fee will be $1,500 or $2,000. This will depend on the location
Payment may be made with Visa, Visa Debit, Mastercard and Mastercard Debit
Three hours should be allowed for completion of application- it can be saved and returned to later
You may complete the application yourself or have a representative complete it for you.
Before you apply, you will need to have your documents ready. They may be in English or French. They should be already scanned and will be ready to be uploaded when you do the application. Without them, your application will be returned as incomplete. Your fee will be returned at that time as well.
Often, one of the following is missing:
Educational Credential Assessment (ECA) report
Canada Revenue Agency (CRA) statements
Signatures from the applicant or employer on the job offer
Carefully check financial documents and black out credit card numbers and social insurance numbers so that they cannot be read.
What Are the Requirements for the Job Offer?
It must be a full-time job. That means a minimum of 30 hours of paid work per week or 1,560 hours a year. It must also be permanent, which means there is no end date. Contract and seasonal jobs are not considered permanent.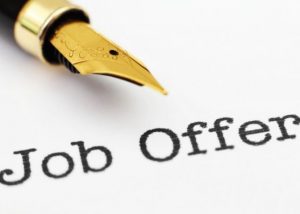 Positions may be in Ontario, inside and outside the Toronto areas. These include the following occupations:
Nurse aides, orderlies and patient service associates – NOC 3413
Home support workers and related occupations, excluding housekeepers – NOC 4412
Residential and commercial installers and servicers – NOC 7441
Transport truck drivers – NOC 7511
Heavy equipment operators (except crane) – NOC 7521
Construction trades helpers and labourers – NOC 7611
General farm workers – NOC 8431
Nursery and greenhouse workers – NOC 8432
Harvesting labourers – NOC 8611
Industrial butchers and meat cutters, poultry preparers and related workers – NOC 9462
The National Occupation Classification may be found here.
Outside of the Greater Toronto Area, positions offered must be one of the following:
Machine operators, mineral and metal processing
Metalworking and forging machine operators
Machining tool operators
Other metal products machine operators
Chemical plant machine operators
Plastics processing machine operators
Woodworking machine operators
Industrial sewing machine operators
Process control and machine operators, food, beverage and associated products processing
Electronics assemblers, fabricators, inspectors and testers
Mechanical assemblers and inspectors
Industrial painters, coaters and metal finishing process operators
Other products assemblers, finishers and inspectors
What About the Wages?
They must be the same or higher than the median wage level for the occupation within the region of Ontario where you will be working. You can find the median wage at the job bank website by entering the title and postal code.
The Ontario wage should be used if the region where you will work is not listed. If you are already working in the position, your wage must be equal to or greater than what your employer currently pays you.
What are the Language and Education Requirements?
You must be able to speak, read and write English or French at the Canadian Language Benchmark (CLB) level 4 or higher. You will need to take a test in English or French before you submit the application to this program.
Applying Within Canada
If you are applying from within Canada, you must have one of the following to prove your legal status:
You should retain that status until the time you are nominated.
If you are in "Implied status" you can apply as well. This means that you submitted an application to Immigration, Refugees and Citizenship Canada (IRCC) to renew or extend your temporary status document. You may remain in Canada pending the status of your IRCC application.
Need Help?
As a certified immigration consultant, we can help you with your application to this program. We also help with citizenship and other immigration issues. Whether you are a skilled worker, in-demand skilled worker or want to study in Canada, we are here to help. Contact us to learn more.