Notary Public Services: What Does the Notary Do?
Do you have papers that need to be "notarized?" This is often requested for documents in order to verify that they are true. The purpose is to prevent fraud, with signatures and oaths being the requirement, in some cases.
Have you heard the term "notary public" and wondered what it means? At Canada Safe Haven Immigration Consulting, we have added this service and want to let our friends know what this means, and how it may help them. One need not be a lawyer; Ontario does allow individuals to become commissioners of oaths in order to commission affidavits and declarations.
In 2020, the Notaries Act provided for virtual or remote notarization. This means that you can use the service from your home or business, right in front of the computer. All you would need is an appointment online.
What is a Notary Public?
It is an official that has been appointed by the Provincial government. Chosen for their integrity, the notary's job is to serve the public. They are an impartial witness and a deterrent to fraud, when it comes to the signing of important documents.
The notary is expected to follow certain written rules. The do not make decisions based on personal ideas, as does someone such as a judge.
What Does a Notary Public Do?
They are in some ways similar to the American notary. In Canada, a notary may do the following: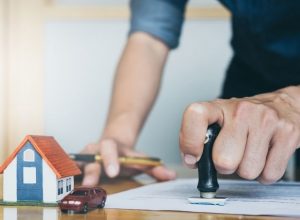 Administer oaths
Witness signatures on affidavits and statutory declarations
Provide acknowledgements
Certify true copies
They can notarize a copy of a document to verify that it is true. They may also receive and write a contract, an obligation, a testament, a deed, a transaction or other voluntary acts.
Within Canada, with the exception of British Columbia and Quebec, it is not necessary for Notaries Public to be Lawyers. Any person that has completed the necessary training may be appointed.
What can a notary not do? A notary cannot represent you in court. You would need a lawyer, barrister or solicitor for this.
How Does a Notary Sign a Document?
They must do the following when preparing your document:
Have a valid certificate of appointment
Write their signature by hand in ink
Apply a stamp or seal with their full name as appointed by the province
Indicate the act performed
Indicate the date on which the notarization was performed
Possibly indicate the date on which their position as notary expires
They may also certify translation of a document if they speak both languages, certifying the accuracy of the translation.
What are Some of the Common Tasks That Notaries Complete?
They prepare mortgages, wills and other legal documents. They may also administer oaths and take declarations in legal procedures. The notary may also explain the legalities and procedures to be followed. They may also legalize and authenticate documents, testimonies and affidavits.
In person, the notary witnesses the signatures in order to prevent fraud, using an embossed seal or stamp that shows that they have witnessed the signing.
They must assess each client before putting their seal of approval on the document by verifying the identity of the person as well as the document.
Some Documents That Might Need to Be Notarized
You may have immigration papers or other documents, including those from banks, that need to be notarized. There are a range of documents that need notarization, whether you are a new immigrant or are starting a business in Canada.
Some of these documents might be a trade or apprenticeship certificate or relate to the adoption of a child. Business and corporate records might need notarization. Burial and cremation documents must be notarized. On the other hand, birth certificates must be issued by a provincial or territorial office and do not need to be notarized.
What is a Commissioner of Oaths?
They take affidavits or declarations by asking you to affirm or swear that what is in it is true. They are regulated in Ontario. You might need an affidavit if you are doing the following:
Are in small claims court or civil court
Transferring ownership of a used car to another person
Giving a car to a family member
Applying for a municipal licence
What is Remote Notarization?
In remote notarization, the signer appears in person before the Notary. This happens at the appointed time, using audio-visual technology over the internet. There is no need to be physically present in the same room.
In Ontario, some of the documents that might be part of remote notarization include immigration forms as well as Ontario court forms, Refugees and Citizenship Canada forms, OSAP affidavits and Service Ontario forms. Some documents to be virtually notarized might include real estate documents and wills and powers of attorney as well as others.
Digital documents may be certified as true copies. There are some documents that must be certified in person. These might include the following:
Government-issued photo identification documents
Passports
Drivers licences
Permanent resident card
Marriage certificates
Divorce certificates
Birth certificates
Death certificates
These government-issued photo identification documents and vital statistics documents as well as diplomas and degrees must be certified in person.
Online and In-person Notary Services
Whether you need services for family immigration in Canada or have papers to be notarized, we can help you. With our online and in-person services, we can help you comply with the legal requirements and procedures. Our services include notarizing certified true copies, oaths and affidavits, statutory declarations and more.
In Ontario, a Notary Public has all the powers of a commissioner for taking affidavits. They can also witness or certify, and attest to the execution of a document and certify that is is a true copy of the original.
You can conveniently schedule an appointment online. Sending your paper documents to us, you will meet your notary at the appointed time online, and they will confirm your identity. Documents will be signed electronically. Contact us to find out more or to get started with an appointment.